Today is my thirty-first birthday, and after making a giant messy fuss of my thirtieth, I feel like this might end up being a quiet one. Still, it's been a while since I blogged about what I'm up to in a broader sense, so I figured this was as good a time as any for a check-in.
So, where is the third Hobson & Choi book at? What else am I working on? How am I feeling, y'know, deep down? Some of those questions answered in the following words.
Comics Of Future Now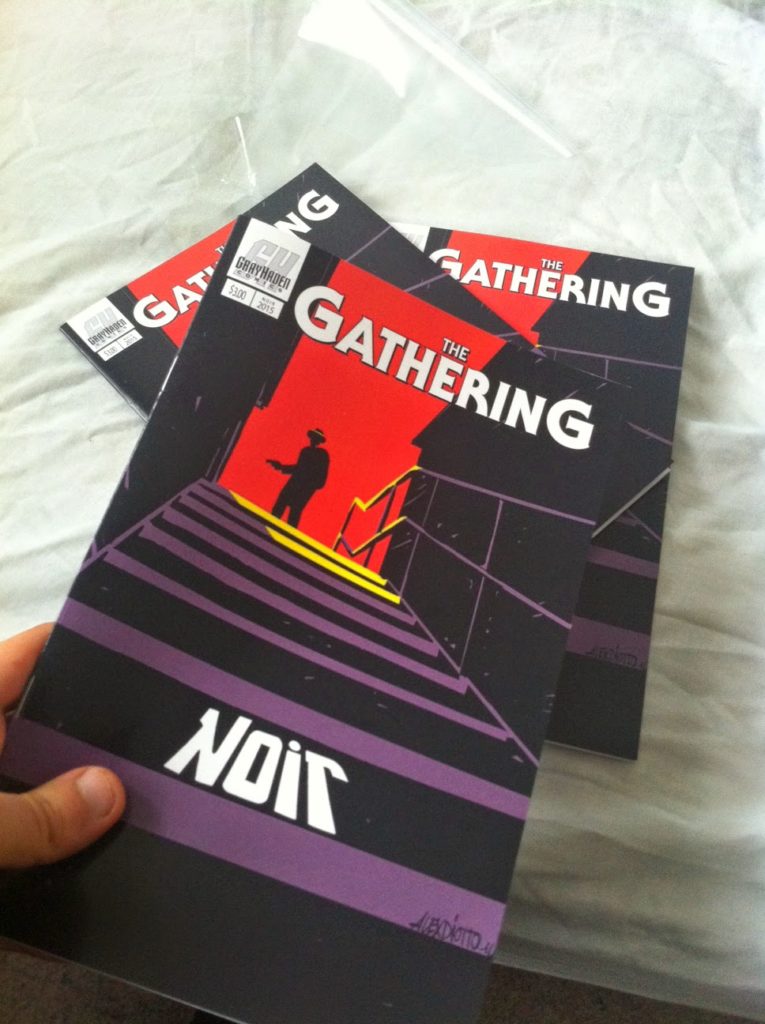 The biggest new news, as posted on social media yesterday, is that I received a print copy of my first published comics work: a story in The Gathering: Noir from the good folk at GrayHaven Comics. You can see my hand modelling the comics in the nearby picture, and I can confirm it is a lovely, well put-together object with attractive cover art. For more details on this comic and a single solitary panel of art preview from my actual story, see this post from last month.
In previously unspoken news, I also have another short comic story approved and assigned to an artist with an entirely different indie set-up. More details on that when it happens, although we're probably talking 2016.
Would be nice to advance the comics thing further, but currently all my spare creative-project funds are going into H&C books. If the comics internet has taught me one thing, it's that asking artists to work for free is not a good look. Speaking of Hobson & Choi…
H&C3 – No wolves, no recruitment agencies
The third Hobson & Choi book, Trapped In The Bargain Basement, is currently being read out loud by me, sitting alone in my house. As discussed in this old post, that's a dull process but always ends up being worthwhile. I've cut 3000 words of needless burble this time, and not even finished yet.
It should be off to an editor in the next two or three weeks, and hopefully out to you, the reading audience, in the latter half of this year. I'm hoping late summer/early autumn, but should probably be a little vague, for reasons I'll get onto in a minute.
If you want to make me feel good on my birthday, feel free hit the Hobson & Choi homepage and buy one of the books (the first one is very cheap on digital). If you've already purchased and read, you can leave a review on Amazon/Goodreads/your own site or tell your friends/social media followers/blog readers/whoever about H&C. All pretty crucial to the whole authoring game.If you've already done all that: thanks, I love you, you're fine.
Thirty-One Life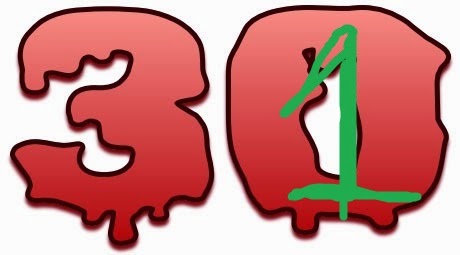 Alright, I'll talk a bit about the birthday as well. My feelings about life and the passing of time haven't changed much since last year's 30th-marking blog post, to be honest. All is alright. In addition to the self-publishing, I have my urban fantasy novel finally out with agents and we'll see how that goes.
(I considered blogging about that as it happens, but I've yet to come up with amazing new perspectives as I haven't done much beyond send a few emails. So I figured I'd just not bang on about it, lest I sound like I'm complaining about "literary gatekeepers" or whatever the angry people say.)
It looks like I might be moving back south of the river some time this year. I like Walthamstow a lot, but there's something weirdly homely about the Peckham/New Cross/Brixton region. And yes, the inevitable disruption involved in moving house is why I'm hedging my predictions for H&C3 release dates.
That's probably enough from me to keep you going into April. Now, I'm off to hack out another quick chapter on my tentative sci-fi project that probably won't see the light of day until 2016. Work doesn't stop for a mere 31st birthday.