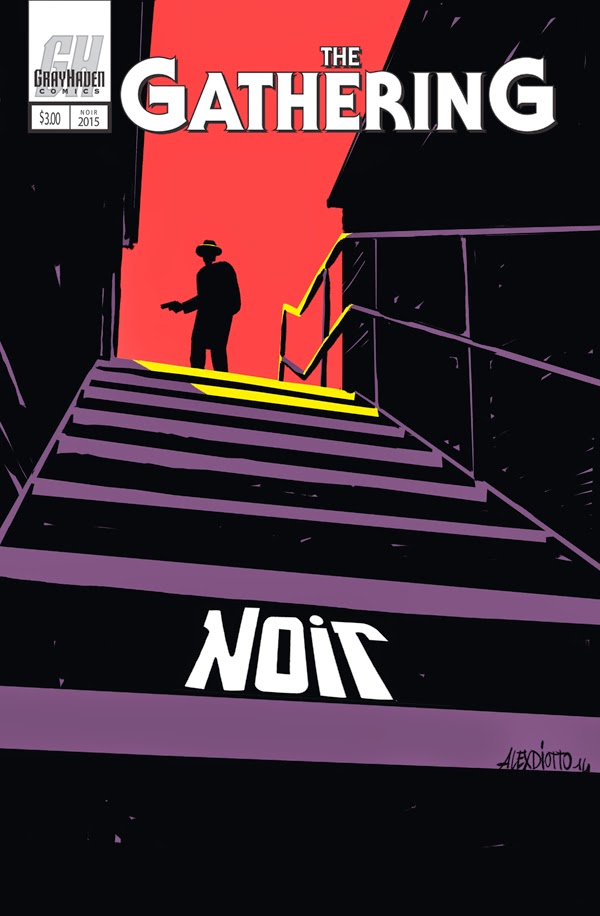 So busy talking about the oft-mentioned Hobson & Choi books around here, I kinda missed the fact that my first comics work came out! This is a four-page story called The Case Study in The Gathering: Noir anthology from Grayhaven Comics. I'm moving noir desperation away from the mafia and on to a whole new group of men in suits – corporate executives.
If you want a print copy, they can be ordered directly from the Grayhaven website – no news on a digital edition yet, but I'll let you know if it happens.
I've seen the four pages and am pretty thrilled with how it came out. For a first attempt at actual fully-realised comic scripting, I seem to have put across my thoughts fairly well.
Of course, comics are a collaborative medium, so other people played a major role in that success – primarily excellent artist Patrick "Podge" Daly, who did a great job of interpreting the script into a proper comic, and Marc Lombardi who edited the whole anthology, lettered my individual story and generally made the whole process flow nicely. Thanks, guys. If/when I do comics again, I'd be delighted to see either of you involved.
I'll add a single-panel sample of Podge's art below, just because I think it deserves to be seen – if you like it, do pick up a copy.