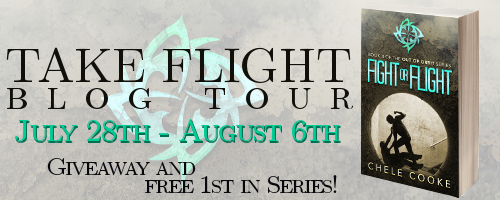 Today, possibly a first for this blog, we have a guest: Chele Cooke, excellent independent sci-fi author.
I met Chele at the Big Green Bookshop writing group (also pretty cool), she's been a great source of advice during this whole self-publishing process. Not to mention, she hosted a guest-shot from me around the launch of The Girl Who Tweeted Wolf – so really, this is the least I could do.
Coming up below is an extract from the prologue to Fight Or Flight, the second book in Chele's Out Of Orbit sci-fi series. I've read them both, they're great fun, and the first one – Dead And Buryd – is currently free.
The Out Of Orbit covers are also designed by Design For Writers, the same crew who did mine, so naturally they're excellent.Anyway, let's get the prologue going.
From Prologue: The Projection
"You're late," he said, stepping around the door frame and circling the backs of the chairs.
"Yes, I'm sure I am." She offered no explanation, nor any appearance of apology.
"Yet you called this meeting."
"If you would like a full run-down of my day…"
She left the suggestion hanging in the air. When he didn't answer, she snorted in derision and turned, taking a step away from him. He winced, looking away.
"Step to the left."
She turned on her heel, glancing at him before looking down.
"Am I in the chair again?"
"The table."
She took a careful step to the side, her shin sliding seamlessly through the polished metal. Placing her hands on her hips, she stared at him while the orb pulsed and shimmered, lilac and crystal-blue waves cresting over its surface.
"Well?"
"Well what?" he asked. "You contacted me, Olless."
He met her ice-blue gaze and crossed his arms over his chest, shifting his weight from one foot to the other. She scowled at him.
"Because I thought you had information."
He thought for a moment.
"It's getting worse," he said finally.
"What is?"
"Everything."
"Are they moving forwards?"
"Not yet, but attacks are coming. Patrols have increased and there's talk of revoking travel passes."
Olless frowned and turned away from him again. Despite his warning, she walked straight through the table and the saelveh orb that created her appearance for their meeting. He winced at the sight but held his tongue. No matter how many times they met like this, he couldn't get used to the way she moved through solid objects.
"You can't slow it?"
He shook his head.
"They are itching for the fight," he said. "Everyone can sense it."
"And they can't be persuaded to back down?"
"Can you?"
She looked over her shoulder at him, revealing a sly grin and the arch of a perfectly shaped eyebrow.
"You know it isn't that simple. There are rules that have been broken. The preparation has already begun."
"I can't do anything here."
"Because your father is such a nobody?"
He scoffed.
"If you think he would step back, or ignore an assault simply because I ask, Olless, you are even more of a vtensu than…"
"Use that word again and I will cut this communication this instant."
Rolling his eyes, he sneered back at her.
"Well, it was a ridiculous suggestion."
She shook her head in a wave of red hair, striding back through the table. He slid down onto the edge of a chair.
"We are not ready to move, there are too many elements in play. You know this."
"That, Olless, is your duty, not mine."
—–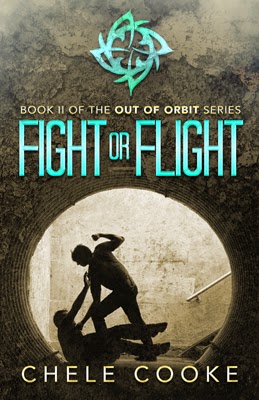 Chele Cooke is an English-born writer based in London. Starting out writing fan fiction, she soon moved onto her own fiction, releasing her first novel, 'Dead and Buryd', in 2013, the sequel 'Fight or Flight' following less than a year later.
She is currently working on the Out of Orbit series, a number of short stories, a circus based sci-fi, and a paranormal serial currently released weekly on Wattpad.
Website | Facebook | Twitter | Goodreads | Wattpad
And, last but not least, here's a chance to win a copy of Fight or Flight by doing some internet things in a Rafflecopter giveaway