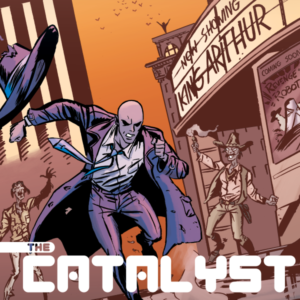 As 2020 rolls on and I start to spin up production on a few new comics, be a shame to forget the old ones. In particular, I wanted to give a bit more love to The Catalyst, my first full-length full-creative-team comic from last year, published by the good people of Comichaus.
In case you'd somehow forgotten, this was a comic about an android called Guy who works as an instigator (or, yes, a 'catalyst') for other people's stories across a range of fictional genres, a gig that often gets him beaten up, because that's life in a lot of tales. Eventually he starts to just want more, y'know?
The Catalyst was written by me, drawn by the fabulous Robert Ahmad, coloured by David Cooper and lettered by Hassan Otsmane-Elhaou, with an additional short bonus story on the end filling out one of the fantasy worlds Guy passes through (colours/letters there by Emily Brady and DC Hopkins).
I'm hugely fond of this comic. Loads of fun to work on, plus it got lovely reviews – some of which you can see on the book page – and tied off 2019 beautifully with an appearance at #36 in the Pipedream Comics top 50 of the year. The comic started life with me noticing how versatile Rob Ahmad was at changing his style across genres and trying to write a script which fully exploited that. Happily the rest of the team joined in, with David and Hassan both tailoring their work to the hops and leaps I took.
As a little peek behind the curtain, I thought I'd run through the opening page process, show off the development of the art and get a little into the weeds of how multiple creators build a story between them. I did something similar for one of my Comic Jam one-pagers a while back and that was fun, so let's go again!
PHASE ONE – Script
The opening scene of the story takes place against a noir crime backdrop – a nice clear aesthetic which I allocated a few more pages to than others. The genre's all about atmosphere so plays out well with the extra space, plus Rob is really good at it.
Full disclosure – this is the part of the post where I'm gonna spare my blushes a little. As well as the creators listed above, I also sorted out an editing pass over this script by the fantastic writer John Lees, and he pushed me particularly on the opening pages to make it distinct, show more of my hand to hook the reader in, whereas the first draft skewed towards Generic Noir Scene.
All of which is to say – I'm not gonna show you that original draft. Sorry. But this is why editors are good.
We'll start instead with the version I sent to Robert: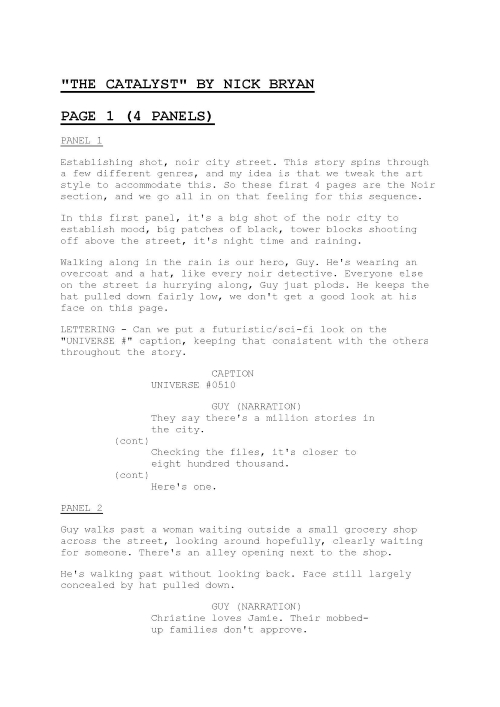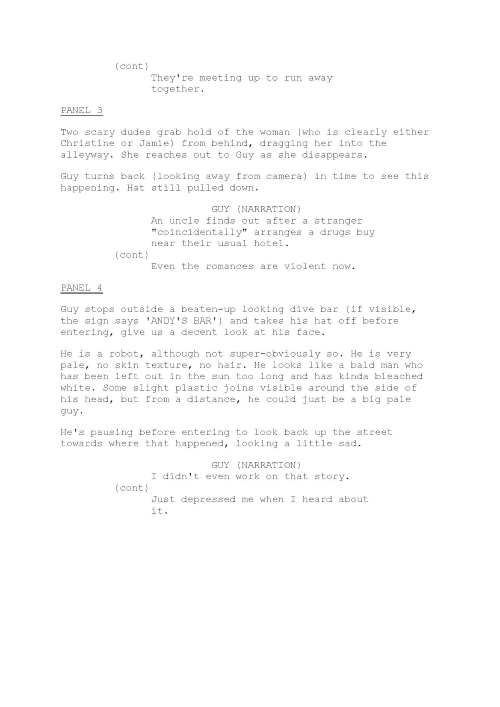 Hopefully that's legible.
As you can see, I've stuck to a four panel layout, to give Robert space for any big towering skyscraper in the rain backdrops he fancies to establish the scene/genre/mood.
Cut forward a few days of nervous excitement to…
PHASE TWO – Pencils
I check my email, sooner than expected because as well as being good, Robert is also scarily fast, and we see: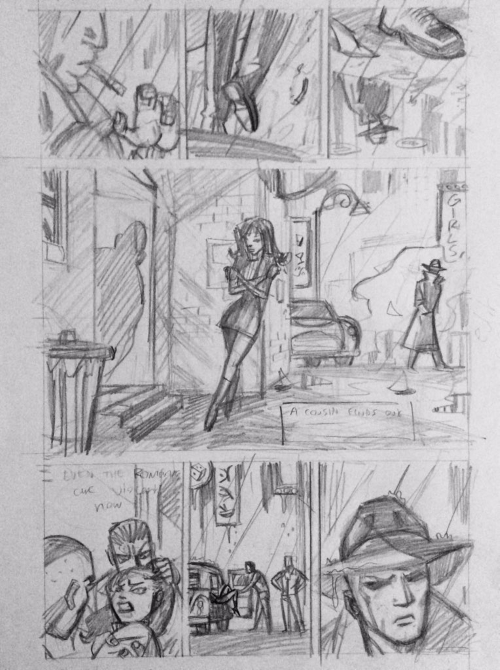 As you can probably work out, that's a seven panel page rather than the scripted four, which is a decent-size expansion.
Rob here opted to set the scene by flashing through different aspects rather than filling the page with a single big shot and I think we're all the better for it. I'm certainly not gonna stop him.
Also note how Rob places the dialogue on the page at the early pencil stage, which I think is a useful step because:
ensures there's space
helps avoid tricky situations where the balloon tail can't reach the character
Obviously, in this case the panel count has changed so I'm gonna re-write the lettering a little anyway, but still, I like this step.
So anyway, there were other pages where we had a little back and forth and made changes at this stage, but I'm pretty sure this one went straight through to…
PHASE THREE – Inks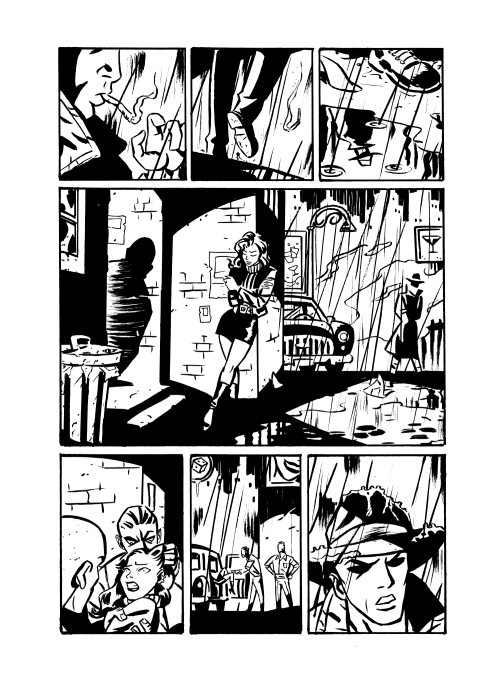 A moment's respect for Rob's beautifully rendered clean lines.
He works traditionally, so I have two original pages from The Catalyst ready to go up on my wall as soon as my long-running house redecoration finally ends.
For now, they look like this. Mild spoilers – at some point, Guy travels into fantasy, western and vampire genres.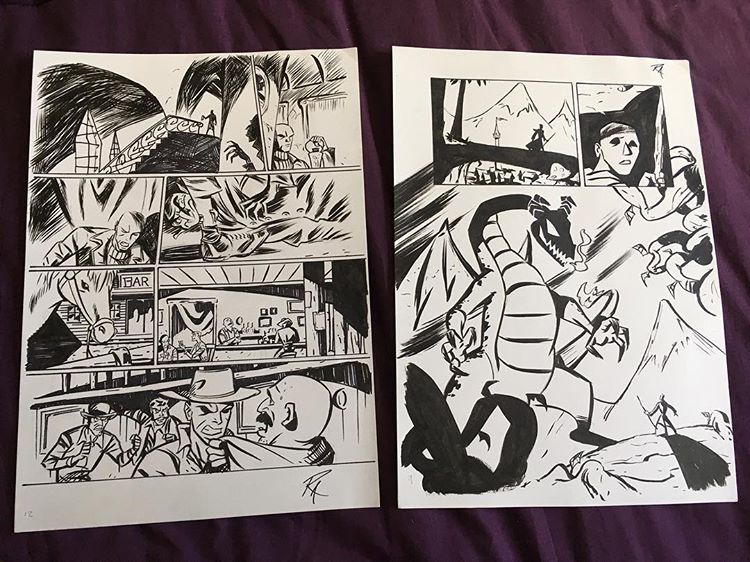 PHASE FOUR – COLOURS
At which point, excellent colourist David Cooper gets involved and does this: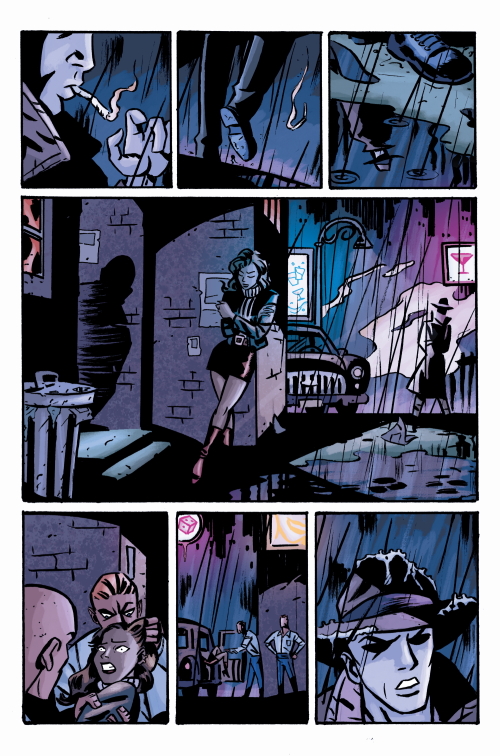 As you can see, he's nailed that noir mood with the blacks and purples, whilst setting up a greyish undertone that runs through the whole story. And he also crushed it on all the other genre sections, though you'll need to buy the comic to see that.
Met David at Thought Bubble 2019, where he described The Catalyst as like a "one-comic portfolio". Happy to provide that service.
PHASE FIVE – Lettering
Finally, it goes to Hassan Otsmane-Elhaou to add the words – of course, I went back and rewrote the exact lettering once I'd agreed the new seven panel layout with Robert.
Although really the changes were pretty straightfoward. Hass laid the dialogue out without seeing my new script, just to show us an example of style, and independently made the exact same choices as me.
Which brings us to the final page…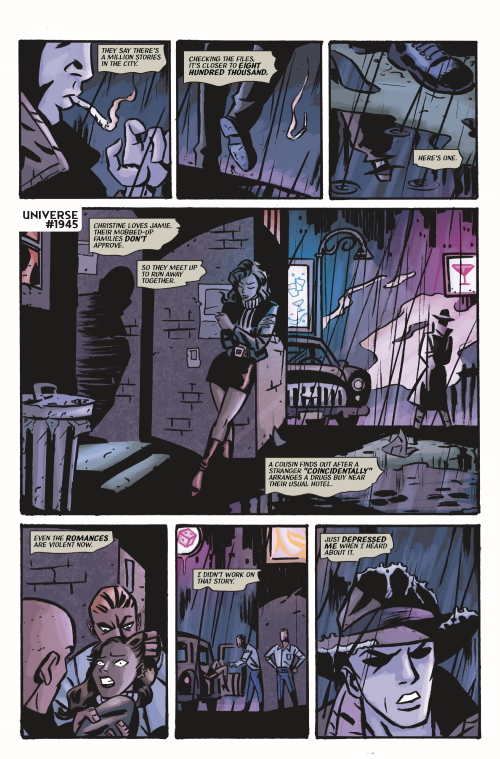 As you can see, we've got grey boxes to go with that general throughline I mentioned, as well as a clear evoking of that all-important noir theme.
Not that this first page contains the best chances for Hass to show off – there's a panel later on involving smashing a glass tube where he pulled off an absolutely beautiful effect.
But I'm getting ahead of myself. That was how five separate people created page 1 of The Catalyst. Imagine nineteen more rounds, and you've basically got the comic, and I've not even mentioned the logo design by Joe Stone. (It's good.)
It takes a village, in short. And I'd like to thank everyone mentioned above, even though I've already done it. I hope you enjoyed a break from me emailing you.
The Catalyst remains a comic I'm super-proud of, I think Guy's emotional journey is a fun yet strangely affecting one, and if you haven't read it, I'll throw in one last imploration to consider buying a copy from Comichaus or reading it on their very good Netflix-style all you can eat app. There's a free trial and everything.
Or, of course, I'll have it at conventions if you're coming to see me.
Thanks very much. I hope this inspired you to go and make comics as much as it has me. (Seriously, I'm getting down to work over here.)
If you want to receive similar articles by email, along with news of my comics and sometimes TV/film/comic reviews, you can subscribe to my monthly newsletter and get a free PDF comic anthology download as a bonus.