Guy is a Catalyst, an artificial being travelling from universe to universe, genre to genre, instigating the stories. Whether you need a clue to your mystery, a warning from a mysterious stranger or a hint of hope, he's there. Whatever gets you into the next scene.
But why does this helpful robot always end up beaten senseless? Did you need to stab him as you accepted the ancient scroll?
As the realities roll by, Guy's patience starts to wear thin. But can he ever be anything else?
The Catalyst is a new one-shot comic from Comichaus, crossing the gleeful stylistic play of Black Hammer or Eternity Girl with the robot-introspection of Westworld.
Also featuring: Wanted: Brave Warriors, a short bonus story looking at day-to-day life in a fantasy world Guy passes through, where courage might be the worst possible trait for completing a quest.
It came from the media-drenched mind of writer Nick Bryan (Little Deaths of Watson Tower, Moonframe) and is brought to life with vivid, genre-spanning work by artist Robert Ahmad (The Devil In Disguise, The Show), colourist David Cooper (Alex Automatic, The Edge Off) and letterer Hassan Otsmane-Elhaou (Peter Cannon: Thunderbolt, Shanghai Red), plus Emily Brady (Black Market Magic, Cherry) and DC Hopkins (Star Trek, Moonframe) on colours and letters for the bonus story.
Buy a print copy on my shop here, or order it from Comichaus, or read the digital version on their app.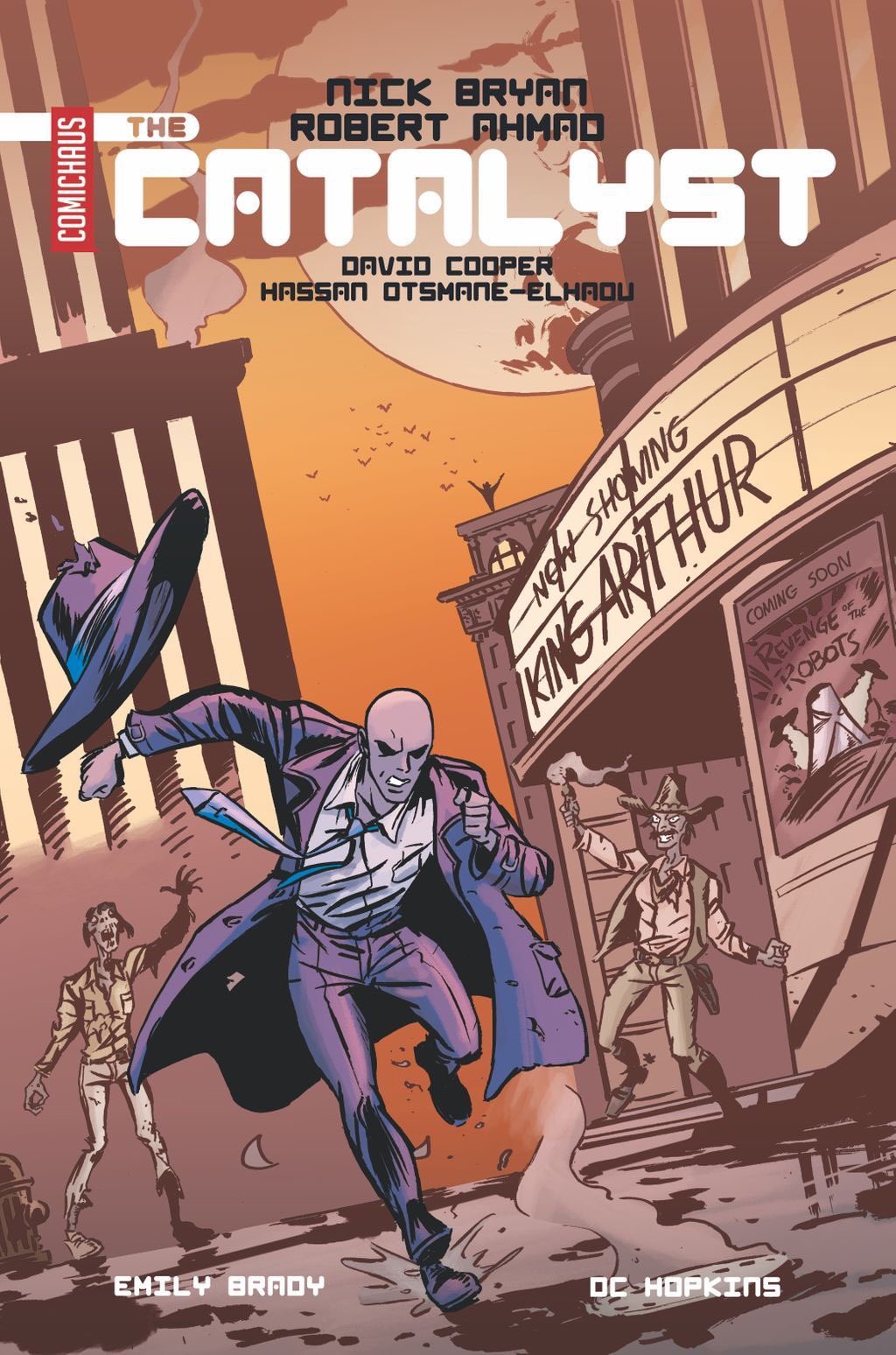 "Wonderfully self-aware writing, and some truly exceptional artwork… It's been a heck of year already for Bryan … but this is without a doubt his best work yet ." – Alex Thomas, Pipedream Comics
"Interesting, smartly done and while this may be a one-shot it makes me wish to see more of it… This book brought me joy and happiness, it made me smile and I had a genuinely good time." – Steven, Reading With A Flight Ring
"Tight and punchy at the same time as being oddly whimsical and sweet… Inventive, unusual and deeply fun, this is UK indie comics at its absolute best." – Alasdair Stuart, The Full Lid
"The story by Nick Bryan is brilliant, funny, and heartfelt. The art by the creative team is beautiful and endearing. Altogether, a great story that has made this reviewer a fan of this creative team." – Shean, Graphic Policy
"As Bryan's story takes us from detective noir to robo-utopia via futuristic sci-fi and dragon besieged towns Ahmad's art effortlessly captures the necessary style for each 'universe'." – Clare Hemsworth, Fandemonium Network