So, to my lasting excitement and terror, my first full-length comic as writer is on the verge of happening.
This is The Little Deaths of Watson Tower, illustrated by Rosie Alexander, and you probably know that already, because your eyes went straight to Rosie's gorgeous cover below rather than reading this blurb first.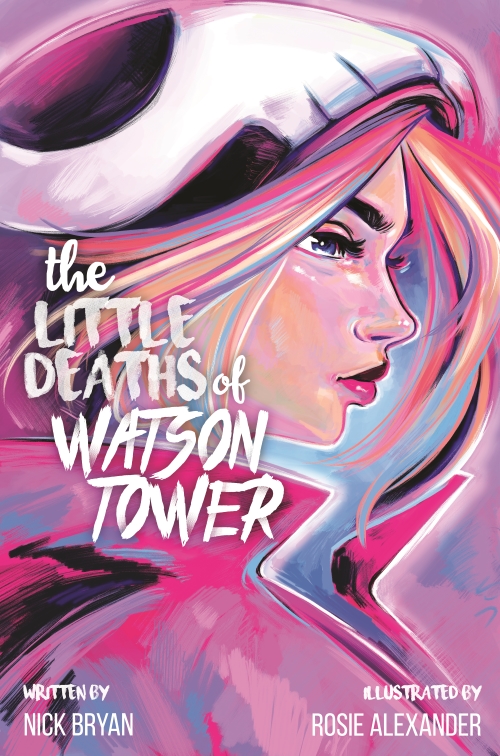 This is a fun, slightly strange comic about a bunch of kids dealing with death, skeletons, and the great unknown. It's funny, sad and curiously uplifting.
All of which is enabled by Rosie's art, which is luscious, evocative work and sells the comedy and emotion every bit as well as it does the ghoulish antics. She's definitely going places, and I'm thrilled to have joined in at this early stage.
Here's the first couple of panels…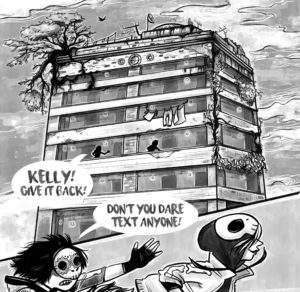 It's twenty pages, black and white interiors as above, with a colour front and back cover, and since it's got skeletons in it, we're hoping to get it to you by Halloween.
At the very least, the PDF should be on sale by then. If everything goes flawlessly wonderfully (i.e. if I haven't made any mistakes in my print set-up), we may even manage to post out print copies to reach you for the big day.
So if you want to keep on top of ordering it when it comes out, you can follow me on Twitter, Instagram, sign up to my mailing list or I suppose I also have a Facebook page.
Oh, and you can also follow Rosie and her work on Instagram and also Twitter, and you should as it's good. Thank you. More soon.