Exciting news, universe! Mere days after my announcement post (as the printers were very quick), you can now buy The Little Deaths of Watson Tower, a new standalone comic written by me and drawn by the sensational Rosie Alexander!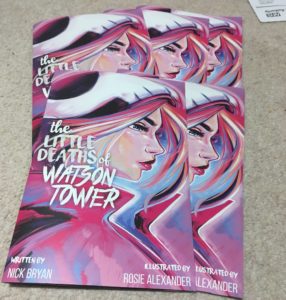 If you want to see more info about the comic, there's a dedicated page on the site with some talk, a bigger cover image and a three-page preview of the excellent interior art.
Or, if you're the sort of good, nay, great person who buys all my stuff cos you know you'll like it, you can go straight to Gumroad to buy the PDF, or also the print edition pictured to the right!
As I said in the other post, we'd love you to get this spooky bit of skeletal comics in time for Halloween, but if you want the print edition by then, we'd recommend ordering pretty soon.
If you've any interest in reviewing/covering the book somewhere, or stocking it in your shop, do get in touch! Either via one of my many social medias if you have them, or email nick@nickbryan.com!