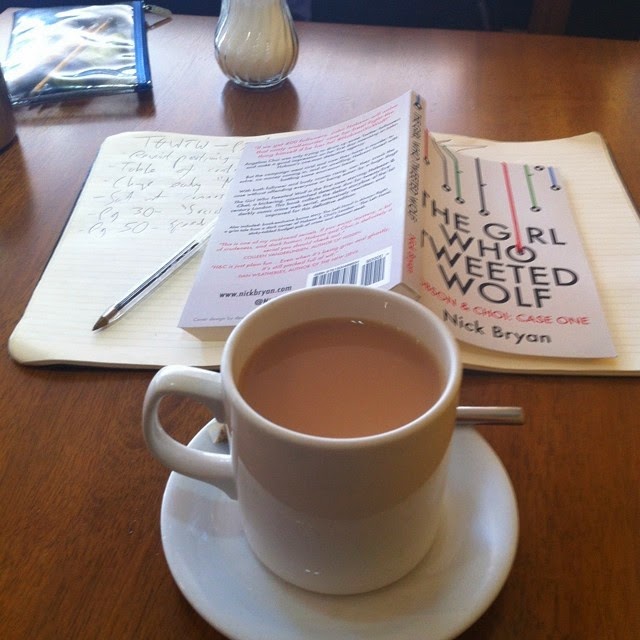 So, it's been a week since The Girl Who Tweeted Wolf debuted on all major ebook platforms, and how has it been? Have I done anything other than check my sales stats? How good are those stats?
And, yes, the print edition is hovering steadily into existence – look, there's a picture of it off to the right next to a cup of coffee.
It's a strange experience, having work out there and in the hands of people other than me. You might be one of those readers, and if so, I hope you are enjoying it – considered doing a review somewhere?
If you're not yet a my-book owner, here's the original post with the buy links.So, here are my observations, other happenings, a short video, a linked preview of the actual book and anything else I can squeeze in…
Bad Breakfast – Director's Cut Edition
Want to read a short snippet of the classic Bad Breakfast Hobson & Choi chapter, re-edited for the all-new novel edition? Well, as luck would have it, you can see it on Chele Cooke's blog now, in a guest post I prepared.
Chele's been a great source of advice in the publishing of this book, and I'll be repaying the favour in a few days, as her second action-scifi book is about to come out. You can grab her first one for free here.
Pretty Rank
Of course, my main leisure activity has become checking my sales figures, and I can confirm they've been… alright. The expected first-day rush, followed by a slow trickle since then. Hopefully I can convert this into a bigger stampede of strangers – as I said earlier, if any of you who already like my stuff fancy doing a review on Amazon/Goodreads/your blog, it would be of vast use.
In the meantime, I managed one big rank-based achievement, and here's a picture of it:

Number two in two separate categories! Firstly, Dark Comedy, which is one of my main genres and therefore an excellent personal achievement. And second, it's…. yeah, Irish Crime Fiction.
Just to be clear, there is no Ireland or Irish people in Hobson & Choi. This is an Amazon labelling issue which appears to have now been resolved.
But hey, if I sold a few extra copies to the Irish crime fanbase before that, all the better. Strong start.
Fresh Prints of Vid-Share
The print edition is so close that… to be honest, I could probably have stalled the release a week or two and launched both at once, but I wanted to be out there by Nine Worlds, the weekend after this.
As things stand, barring a total godforsaken catastrophe, we are 1-2 days processing away from the print edition being fully live. There will be a blog post about that soon, along with a nice big picture of the lovely full wraparound cover.
And that, I think, is it. For those of you waiting for the print edition, not long to go now.