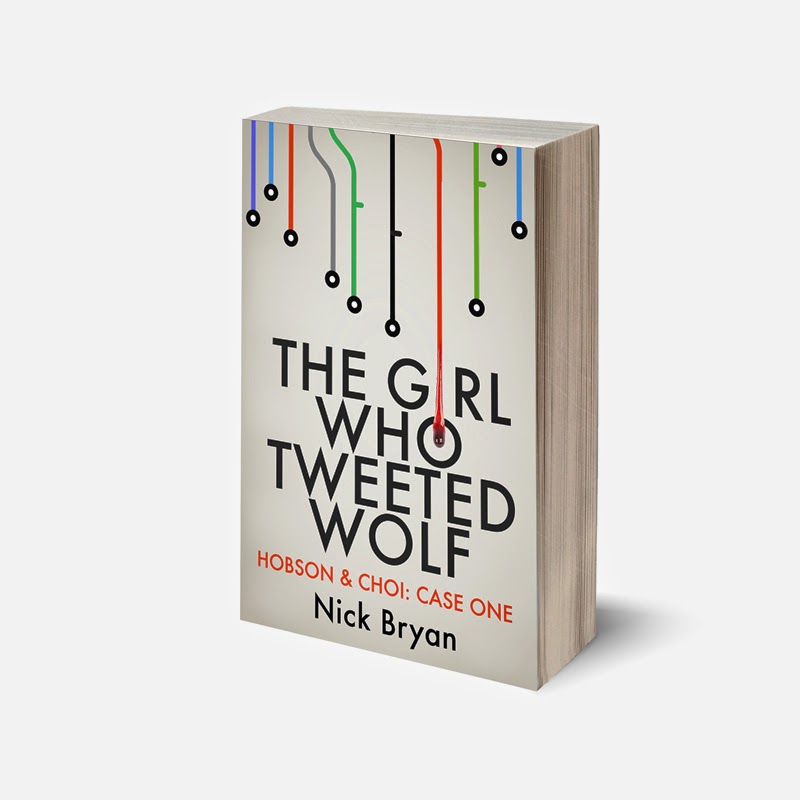 The Girl Who Tweeted Wolf is out in ebook!
This is the first volume in the Hobson & Choi series, a crime saga with a heavy twist of dark comedy. It shows how my two mismatched detectives begin bickering, whilst also solving their first murder. This involves Twitter, a wolf and food – loads of food, in fact.
I'll include the full blurb in the remainder of this post, but for those who have heard the H&C sales pitch a bunch of times, let's cut to the all-important buy-buttons. Hope you enjoy the book, I'm very proud of it, and if you do go for it, consider reviewing it somewhere, be it Amazon, other book-buying sites, the book's Goodreads page, your own blog, social media, or anywhere else which lets you have a book-opinion.
And remember, if you've read Case One on the H&C webserial already, there is an eight thousand word book-exclusive bonus story here to make it worth your while. Print book fans – that edition shouldn't be too far away now. Proof is en route for my approval.
The Full Sales Pitch
"If we get 400 followers, John Hobson will solve that nasty wolf-murder case for free! Fight the thing himself if he has to! #HobsonVsWolf!"
Angelina Choi was only trying to drum up some Twitter followers and make a good impression on her first day interning at John Hobson's one-man detective agency.
But the campaign went viral and now they have a murder to solve, no money coming in, and an unwilling Hobson faced with battling some enormous beast.
With both follower and body counts rising, can they crack the case without offending everyone or being eaten by a huge dog?
The Girl Who Tweeted Wolf is the first case starring Hobson & Choi, a bickering, mismatched detective duo for 21st century London. This book collects the debut storyline of the hit darkly comic crime web serial, extensively rewritten and improved for this definitive edition.
Also included: book-exclusive bonus story The Left Hand Is Always Right, grim tale from a dark corner of Hobson & Choi's London – The Left Hand, budget pub of crime.
Even more details on the dedicated Hobson & Choi homepage! If you have any unanswered questions about anything Girl-Who-Tweeted-Wolf-related, email me and we'll hopefully be able to come to some accord.
Thank you and goodbye for now. I'm off to enjoy the day. In case the buttons up top didn't work for anyone, here are all those book-buy links in old-fashioned text form.