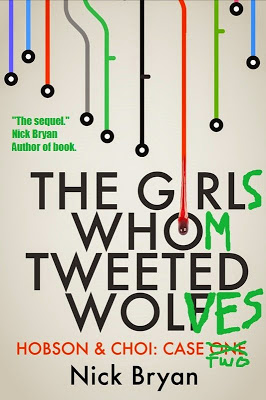 It appears the launch of Rush Jobs, the second Hobson & Choi book, needs preparation. You can see an exclusive 100% real not-fake not-a-joke preview of the Case Two cover just to the right of these words. Enjoy!
But yeah, if you're someone who dislikes making Christmas plans in mid-November, best duck and cover, because we're about to talk late January 2015.
After The Girl Who Tweeted Wolf's relatively soft launch, we at H&C HQ are going bigger this time. Yes, it's a blog tour. This means that if you, the reader, run a blog about books (or something else you can easily relate back to H&C), you can host a post around the time of the Rush Jobs launch. This could be your own review of the book or a piece I've written or some combination of the two. We can work something out.
However, if you wish to be involved at all, you should register your interest by filling in the form here, which does include checkboxes to determine what kind of post you might want to feature.
Get ye applying. Your blogs won't tour themselves (because I will be doing that).
In order to get everything in order for this blog tour, we've also put the new book on Goodreads, so if you want to announce your formal intention to read it, you can do that too.
Oh, and to make the Goodreads page look less skeletal, I've released the blurb for Rush Jobs, which goes like this:
"Sometimes #crime feels like the Matrix. Or the #patriarchy or #porn. It's everywhere, even in people you trusted, and there's so MUCH of it."
Angelina Choi returns for her second and final week of work experience at John Hobson's detective agency, ready for anything after their first successful murder solve.
After all that online buzz, they're in phenomenal demand. Can Hobson & Choi solve a kidnapping, play chicken with corporate crime, beat back gentrification, save a dog from drug dealers and head off violent backlash from their last case?
Or will grim revelations about Hobson's past leave them floundering in the chaos?
Rush Jobs collects the second major storyline in the Hobson & Choi saga, #1 on Jukepop Serials and #2 in Dark Comedy on Amazon, adding brand new chapters and scenes to the case.
Also included: bonus story Infernal Accounting, exclusive to this book. An unfortunate accountant is terrified of his first day working for Rush Recruitment – but they're only a temp agency, right? How bad can it be?
So there we go. The countdown has officially begun. Apply now to be a tour stop! And yes, the real new cover, from the creators of the first one, will be unveiled at some point. Exciting times.