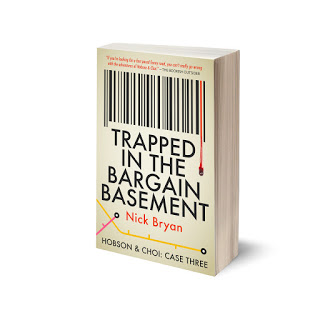 Hi!
After producing a slightly loose post last week, I was perhaps considering writing a real one this time, but I became unexpectedly busy and the remaining time had to be given over to the important tasks of actually writing and watching TV shows based on comics.
But as luck would have it, I've written some proper structured Hobson & Choi related bits for other blogs that have gone up this week, so at least I can link to those.
They're a little more esoteric than some of the guest posts I've done in my time, as there's only so much I can say about my Amazing Writing Process.
Firstly, there's the "Which Hobson & Choi Character Are You?" quiz, which is perhaps the most important personality test of our generation. Yes, even though it contains an arguable factual error re: whether Breaking Bad is a "current" TV show. Ahem.
Thanks to the always-excellent Chelley of Tales of Yesterday for hosting that one, including doing all the actual set-up for the quiz – I just sent over a set of questions and answers. Much obliged.
Second, and even more in-jokey than the first one, it's Gentrificapocalypse Now, a poem by Sad Receptionist. This is an actual creative work by a character from the H&C books, who you can follow on Twitter if you want. His backstory is (partially) unveiled in the second book, but the actual Twitter account is just stupid rhyming jokes really. More details in the actual blog post, kindly hosted by Andrew of The Pewter Wolf.
And that is it for now. Next week, if I'm not unexpectedly busy, maybe a real blog post here?