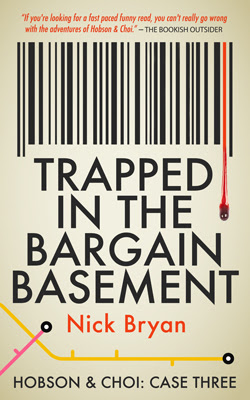 One of those blog posts that kinda writes itself – Trapped In The Bargain Basement, the third book in my mismatched-detective-duo London crime series Hobson & Choi comes out today! It should be out now!
In this third book, the team look into the dark heart of a massive towering shopping centre. But how is it evil? And why? And whose fault is it, and can it be proven? All these answers plus romantic subplot complications in this third volume!
I'll be honest, it's a very plot-heavy series, so I'd recommend starting from the first book (The Girl Who Tweeted Wolf) if you've not read any before. Helpfully, said debut book is currently free and you can get that from the dedicated page here.
However, I do think Case Three could be one of the best yet and you don't have to just take my word for it. The first review went up yesterday on fellow indie author Virginia McClain's blog, which you can see here accompanied by a nice guest post by me about how to turn your serial into a novel.
Here's a nice pertinent quote from Virginia's review: "This third installment of the Hobson & Choi mysteries delivers just as much fun and whimsy as the first two books, but with the delightful addition of more wolfhound. My favorite thing about all three books is the characters and their engagement with each other…. Whoever's perspective we're following, there's a good chance that we are going to be forced to take a good look at our own privilege, even if we aren't forced to stare at it too long, and can safely return to pinning things on the 'bad guys' a few pages later. It's this odd but compelling mixture of dark humor and introspection that keeps me returning to Bryan's books."
(It's weird being referred to by my surname again, by the way. Reminds me of being back at all-boys grammar school.)
So there we go. Trapped In The Bargain Basement is out now in both print and digital and on this page should be a rank of buttons to help you buy it. Enjoy!