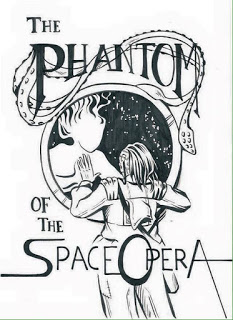 As mentioned during last week's Nine Worlds 2015 round-up, a highlight of the convention was NaNoSessionMo, in which myself and twenty-eight adventurous co-authors wrote a book in only seventy-five minutes! Not as catchy as an hour, but we needed every second we could get.
After compilation by the excellent people responsible, the resultant masterwork has now been released onto the internet! Along with a photo showing me apparently drawing inspiration from my forearm! And a lovely cover by Sally Jane Thompson which you can see to the right! It's called Phantom of the Space Opera!
Yes, there's a play on words in the title. I approve. Keep reading for a few more words about the experience and a once-in-a-lifetime chance to guess my chapter and win stuff!
How to write a novel in 75 minutes
Just in case anyone is curious how you plan a novel in around half an hour (followed by another thirty-ish minutes of frenzied typing), the basic framework was to start off yelling out ideas, and then hammer them into this story-circle structure outlined by Community creator Dan Harmon.
The genre? Space opera. The main character? A cyborg. The motivation? Love. And I'll refrain from spoiling any more, but everyone really got into it, strong, fun and surprisingly serious ideas started emerging and, yes, the more literal opera is eventually involved, because the titular wordplay demands satisfaction.
Inevitably, nearly thirty people shouting risks dissolving into chaos and ringmaster Chris needed to steer us back onto topic a few times. Still, when the dust settled on the plotting half of the session, it was impressive how much the resultant list resembled a novel outline.
How to read a novel written in 75 minutes
And also how much the final product kinda resembles a story! Yes, a sometimes inconsistent one – inevitably, many transitions between chapters don't quite join up. Still, perhaps because it's the product of a group of likeminded people in the same room following a half hour chat and with a fairly detailed scene-by-scene plan, there actually is a good sense of tone.
And it's fun, too. Having structure without strict rules allows for moments of weirdness that are entertaining without dissolving into the incomprehensible.
So yeah, as a fun convention experiment, I can't say enough good things about this. Special kudos to Chris Farnell and Megan Bettinson running the event, who did a great job keeping us both on schedule and in good spirits. I haven't said much about my specific segment, because it would ruin…
THE CHAPTER-GUESSING COMPETITION
The PDF of Phantom of the Space Opera doesn't specify exactly who wrote which part, so I'm gonna take this opportunity to do a nice straight-forward competition. Go forth to this link here, download the file and give it a read, then try and guess which part I wrote.
They're all clearly numbered and a different human being produced each one. Email your guess to me at nick@nickbryan.com and every correct entry can have the first two Hobson & Choi books in the ebook format of their choice. I'll also do a draw (in the event that I get more than one correct entry) and that one person can have a physical copy of the first volume too. I'll sign it as well, unless you don't like that sort of thing.
This is a fairly loose competition, but you gotta have some rules and here they are:
The closing date is the end of August 2015 – 23:59:59 BST on the 31st if you're a big specificity fan. The correct answer won't be disclosed until after that.
You can have up to three guesses per person. Email them to nick@nickbryan.com all in one go. Use them wisely.
Yes, anyone can enter. Even though it might end up with me posting a book to Australia.
No, I won't tell you who wrote any chapter other than my own. It's not my place and, for the most part, I wouldn't know anyway.
Go on. It's only 13,000 words of homework, you know it's worth it. It'll be fun.