Some writers don't listen to music while they work, needing constant silence to produce their genius. However, I require an endless rolling soundtrack to drown out the screaming choirs of my own insanity (10 points for knowing where I stole that last phrase from), so I get through a lot of tracks.
A lot of the choices go in phases – new records come out, or I fancy immersing myself in the music of one artist, so I load my phone up with their albums. Then I listen to this person exclusively for a while, until I'm sick of them and don't want to hear anything they've done for months.
A few songs/sounds do survive the gap though – elevate themselves above the flighty phases and become evergreen presences. Here, then, are my perpetual audio companions. Apologies if a few of them turn out to be part of temporary phases and I'm just blinded by momentary love.
Warren Ellis – SPEKTRMODULE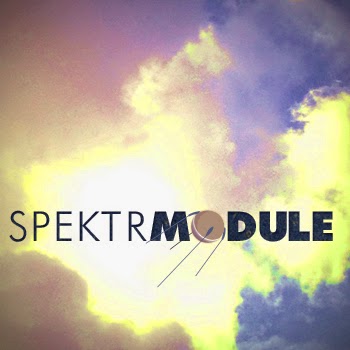 SPEKTRMODULE is an irregular ambient music podcast by British comics/novels writer Warren Ellis and is rarely far from my writing playlist. It helps that there's loads of it and new ones sometimes slip out, but even with that, it's a good soundtrack. A nice combination of atmospheric and relaxing, and always my first go-to when I don't feel like listening to music with lyrics.
You can see all the episodes in their category on his blog, or subscribe to the iTunes feed here. Well worth a look.
In other beepy/electronic music, I sometimes listen to the Social Network and Girl With The Dragon Tattoo soundtracks by Trent Reznor and Atticus Ross, but they're a little too scary to relax into.
Gorillaz – The Fall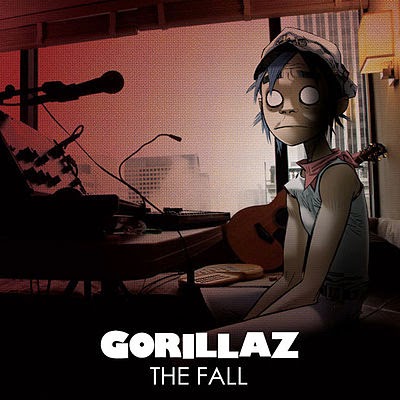 This is the lesser-known fourth Gorillaz album, the one with less budget, very few famous guest artists and sparse/instrumental songs recorded on an iPad about Damon Albarn's loneliness while touring America.
It didn't top the charts like other cartoon monkey records, but it is great writing soundtrack material. Haunting and driving in equal measure. And just in general, if you like a good Blur/Albarn song, there are some nice ones on here, especially Little Pink Plastic Bags, The Parish of Space Dust and Amarillo.
The new Damon Albarn solo album Everyday Robots is pretty too, though a bit too languid for work-motivating purposes – in my opinion, at least.And to complete this segment, here's the excellent song Amarillo in YouTube form.
R.E.M. – Up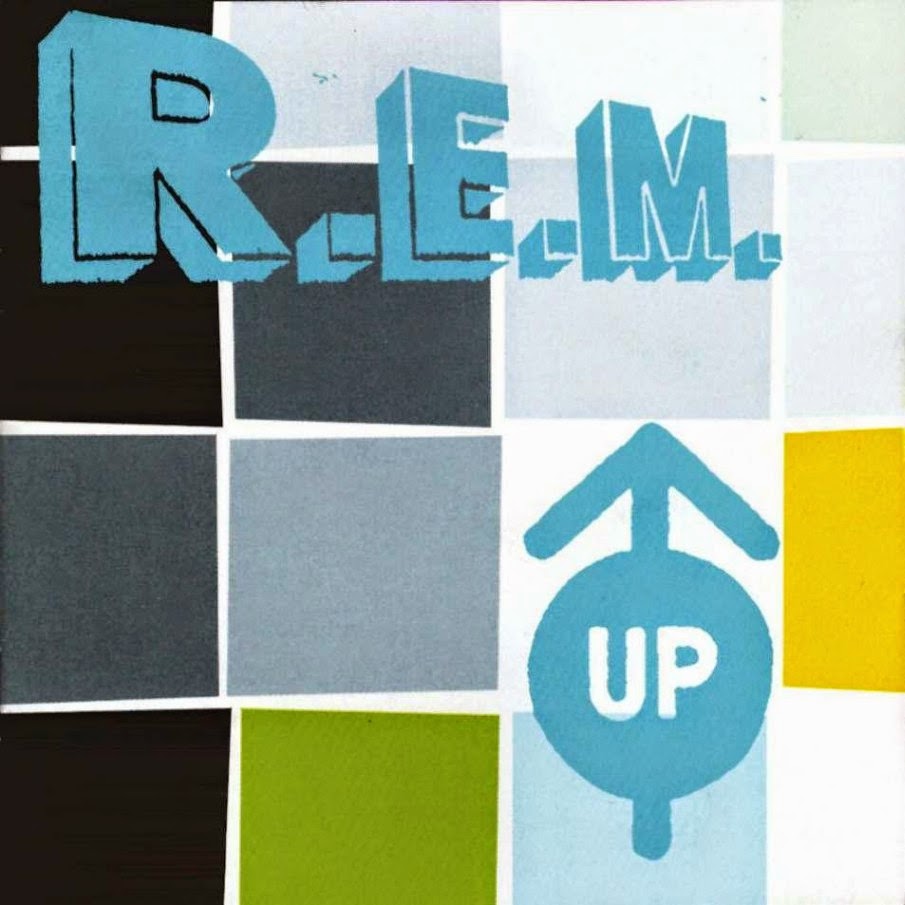 I really like R.E.M., for which I blame their total ubiquity on my parents' stereo when I was younger. Although considering they and Blur/Gorillaz are two of my favourite artists, it's also possible I like music where the focus is just as much on the clever lyrics as the songs – this might be a writer trait? I don't know. Someone tell me I'm normal, for god's sake.
Putting self-analysis aside, a lot of R.E.M.'s stuff is hooky, attention-seeking indie-rock and not always ideal background work music. The album Up, however, shifted towards whispering, downbeat stuff or, even on the less grim songs, a swirl of noise rather than louder, more straightforward indie.
A music-minded person might say this is the album where R.E.M. most tried to replicate their good friends in Radiohead, but either way, this album really works for me as writing music. More so than most Radiohead stuff, actually, although Kid A does come out when I'm hitting the misery juice hard.And now, for a sample, the song Suspicion which I've always found pretty lovely.
Honourable Mentions
At this point, there is a risk of hitting some stuff that's just a phase. For example, the new Elbow album The Take-Off And Landing Of Everything has lasted well, but I imagine it won't be with me forever. Their classic The Seldom Seen Kid is a bit of an evergreen though.
Every year for a while now, around the time the sun comes out, I pull out The Duckworth Lewis Method album, and their 2013 release Sticky Wickets has joined it this time. Good times, very seasonal, if sometimes a bit loud and jangly for heavy work deadlines.
At the opposite end of the spectrum to most things we've talked about so far, I sometimes like a little higher-energy pop music, especially when crashing out first drafts. I've got the three-disc Genesis Platinum Collection for a lot of this, for better or worse. Also: the second Little Boots album Nocturnes, which really deserved more attention, and The Bones Of What You Believe by CHVRCHES.
That's probably enough music to be getting on with – what can I say, after following Kieron Gillen on Tumblr for long enough, you start to think about the role of music in your writing. If you have any recommendations in a similar vein, feel free to leave them in the comments below. Ambient stuff in the style of SPEKTRMODULE would be particularly interesting to me – need a precise level of atmospheric but not too attention-grabbing.