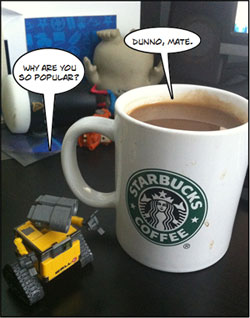 Not even nine months ago, I did this post about my writing environment. Looking back on it now, I seem to have ditched my desk to live the writer-in-coffee-shop cliché. Damn.
But why can't I work at home anymore? Where did it all go wrong? Isn't my home-made photo adorable? And how long can one man sit in a coffee shop before the staff punch him?
Coffee House Rules
Turns out, quite a while. However, being there on your own does mean embarrassing things like taking your laptop computer to the toilet with you. Still, at least that I can write down any brilliant ideas that come to me on the crapper – usually, they just slip away.
Bogs aside, most coffee shop staff seem tolerant as long as it isn't busy and you buy at least one drink every couple of hours. Admittedly, I've stuck to suburban branches so far, so never really had a problem with tables running out.
Still, as a man with a constant ongoing money problem, I could live without paying a few quid in caffeine fees every time I want to do some proper writing. So, why did this happen?
Obey The Murmur
In that other post, I said this: "Environment is irrelevant. It doesn't matter whether I'm huddled in my pit or a nice clean branch of Pret, I will work if I'm in the mood."
Obviously, that hasn't entirely worked out for me. At home, I can manage the occasional TV review, but for proper concentration, I've started meandering, procrastinating, generally annoying myself.
I have found this website called Coffitivity, which generates ambient coffee shop noise to encourage work. Honestly, I'm cynical, just because it sounds ridiculous, but with the aid of this background murmur, I've produced this blog post quickly enough. So, is this the answer? Do you have an answer? What drives us from our homes?