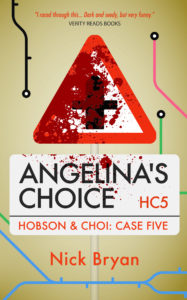 Hobson & Choi book five is ready to head out into the world! Which, of course, means pre-orders are live and you all get to look at a lovely new cover by Design for Writers.
As you can see, we've moved the blood on, added a sexy new street-sign element and generally brought things on a bit. So I guess this makes this a cover reveal. Wow.
And yes, you can buy the book as of May 29th 2018. It should now be up for pre-order on all major e-vendors, links on the buttons below.
And yes, a print edition is also coming, but as ever, I don't have the power to put those up for pre-orders.
But what is the plot actually about?
Here's a synopsis!
"Finding my real parents isn't as simple as I hoped, but after all the trouble Hobson's past gives us, surely I'm owed my chance?"
After solving other people's cases all summer, Angelina Choi is itching to look into her most personal mystery - who were her birth-parents? Why did they abandon their infant daughter in a cardboard box next to a pub?
But with her detective boss John Hobson trapped in the dark underbelly of London's trendy online taxi services, Angelina ploughs on with her investigation alone.
Will her single-minded obsession cause irreparable harm? Can discovering the truth about her family make her happy?
Angelina's Choice, the fifth volume in the Hobson & Choi series, brings the dark comedy-drama detective saga to a crossroads, with every character forced to question their decisions past and present. But as the end looms nearer, their options are vanishing.