Kelly Arnold and her friends are hanging around a tower block, dressed like tiny grim reapers, when everything gets too real. Like it or not, they must face the scampering nuisance of death itself.
The Little Deaths of Watson Tower is a twenty-page black and white one-off comic written by Nick Bryan (Comedy & Errors, Hobson & Choi novels) and illustrated by new talent Rosie Alexander (Carpe Noctem).
It's the first full-length comic story by both creators, and tackles questions of mortality, coming to terms with hard times and exactly what it's like to suddenly become a living skeleton.
A quirky, funny, unique story, the book features twenty pages of black and white artwork, full-colour front and back covers and an escalating sense of baffled dread.
You can see the first three pages below - click on them or here for a bigger readable preview.
Available now in print edition and digital PDF! Also available to read on the Comichaus app. Pick up your copy and make two simple creators very happy.
If you want to review the comic for your website/podcast/other comics outlet, stock it in your shop or chat about it at all, email nick@nickbryan.com.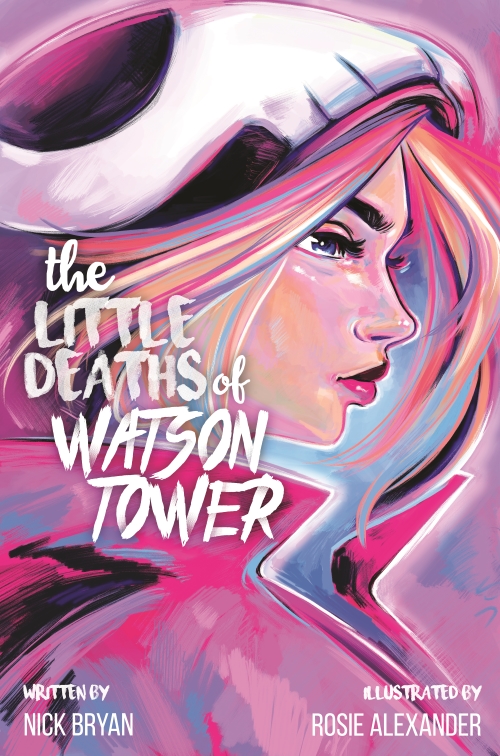 "From the moment you see its striking pink and blue portrait cover, this new book definitely stands out from the crowd... very carefully and deliberately put together with each page feeling perfectly balanced... a superb debut offering from both Bryan and Alexander." - Pipedream Comics
"Twenty pages that were just a joy to read. I just absolutely breezed through it. Nick's writing's really sharp and quite quirky, it's got a nice character to it... Rosie Alexander, definitely one to watch out for... absolutely loved this from front to back." - Vince Hunt, Awesome Comics Podcast
"The Little Deaths of Watson Tower is sweet and dark and beautiful and powerful, all at once. It remembers what being a teenager is like, how the heavy parts of life effect us at that age, and how important good friends are to getting through it." - Matt Ligeti, the Comic Book Yeti