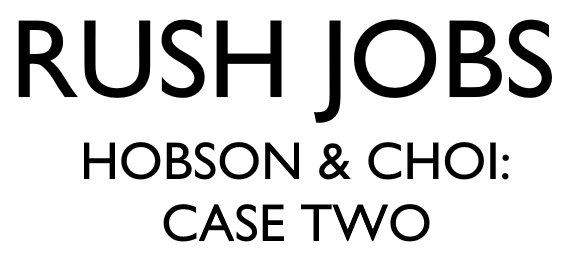 "Sometimes #crime feels like the Matrix. Or the #patriarchy or #porn. It's everywhere, even in people you trusted, and there's so MUCH of it."
Angelina Choi returns for her second and final week of work experience at John Hobson's detective agency, ready for anything after their first successful murder solve.
After all that online buzz, they're in phenomenal demand. Can Hobson & Choi solve a kidnapping, play chicken with corporate crime, beat back gentrification, save a dog from drug dealers and head off violent backlash from their last case?
Or will grim revelations about Hobson's past leave them floundering in the chaos?
Rush Jobs collects the second major storyline in the Hobson & Choi saga, #1 on Jukepop Serials and #2 in Dark Comedy on Amazon, adding brand new chapters and scenes to the case.
Also included: bonus story Infernal Accounting, exclusive to this book. An unfortunate accountant is terrified of his first day working for Rush Recruitment - but they're only a temp agency, right? How bad can it be?